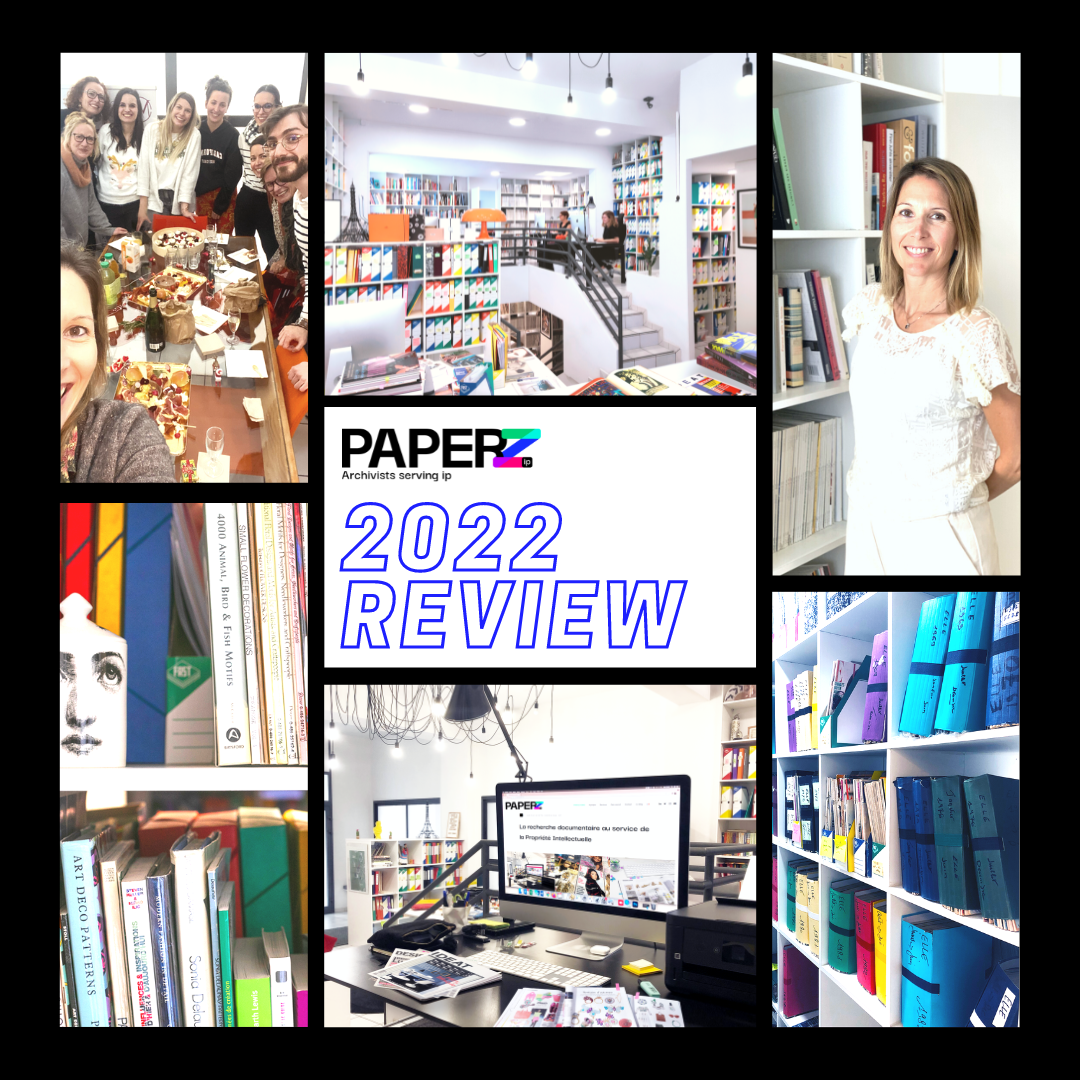 What a great job accomplished this year! The year 2022 has been full of new developments and great performances! Thanks to our team of 6 experts who work rigorously on every file, each in a specific field, we have been able to respond efficiently and in a personalized way to each of our clients' requests.
In 2022, we have:
imagined a new name and redesigned a new graphic identity (logo, colors, typography, website…) that better represent our business, our dynamism and our aspirations
carried out nearly 200 research files (between 1 day and 24 days of research per file) meaning +38% of new files compared to 2021 (including 10% more from foreign clients)
assisted our regular customers and 26% of new customers, as a preventive measure or as part of litigation (in-house counsels, attorneys and lawyers)
completed our archives which contains nearly 1266 books (including 70 new acquisitions in 2022) and + 20,000 French and international magazines and catalogs (including 800 new acquisitions in 2022: Vogue Italia, Cosmo Italia, ELLE Decoration España, ARS Italy, Jewellery Historian…)
reached nearly 30,000 product files in our Design database (fashion, jewelry, decoration, lighting, furniture…)
digitized about 700,000 pages of magazines, books and catalogs, in our digital library
supported various events: the APRAM (Association of Trademark and Design Law Practitioners) / EUIPO conference, the CN2PI national pleading contest, the publication of the new ultra-sharp fashion magazine Griffé…
2023 is expected to be a promising year and we aim to broaden our horizons : gain the confidence of new customers and promote Paperz IP beyond our borders, with even more international archives…
… while guaranteeing an ever more advanced quality of files thanks to our increasingly efficient tools and our incrementing archives. Because quantity is good, but quality is better!  
The satisfaction of our customers remains and will always remain a priority.
We wish you all a happy new year 2023!